Key Clinical Topics in Plastic & Reconstructive Surgery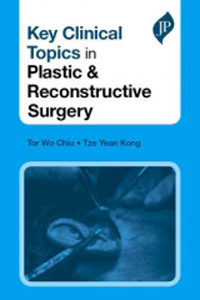 | | |
| --- | --- |
| '˜ŽÒ | : T.W.Chiu & T.Y.Kong |
| o"ÅŽÐ | : JAYPEE BROTHERS MEDICAL PUB |
| ISBN | : 978-1-907816-24-6 |
| ƒy[ƒW" | : 394pp.(50illus.) |
| o"Å"N | : 2015"N |
ÝŒÉ

'艿8,778‰~(–{'Ì7,980‰~ { Å)

[REVIEWER'S EXPERT OPINION]
Jeffrey S. Rosenthal, MD(Bridgeport Hospital)

**Description**
Thumb through the contents of this book, starting with A and ending with Z, and you have the essential core principles of plastic surgery. Well written, cogently authored without fat or waste, this review book for the British boards (but appropriate for U.S. readers) delivers exactly what the trainee requires.

**Purpose**
Intended for trainees in plastic surgery, this book serves as a review for the plastic surgery boards.

**Audience**
The authors teach as well as practice plastic surgery, which positions them well to impart the enormous amount of information that trainees must master to become certified. The book also can be helpful for senior surgeons who desire a quick refresher.

**Features**
The alphabetical format presents the breadth of plastic surgery in a succinct yet exceedingly readable manner. The book begins with topics such as abdominal reconstruction, acute burns, Botulinum toxin, breast procedures, and brow lift surgery and ends with zygomatic fractures. Cosmetic surgery, hand surgery, flaps of all modalities, skin cancers, and suturing techniques are just a few of the topics covered. Each procedure, surgery, or condition is followed by basic anatomy, mechanisms of action, complications, alternatives, and associated conditions. The presentation makes the book invaluable for informational update or didactic purposes. There is just a scattering of diagrams, charts, and references, but this does not detract from the overall intent of the offering.

**Assessment**
This is a highly recommended book for board exam preparation in any country, or for a rapid read to improve one's personal knowledge in the field of plastic surgery. Well done.

-----------------------------------------------------------

Weighted Numerical Score: 95 - 4 Stars!