Contemporary Management of Myeloproliferative Neoplasms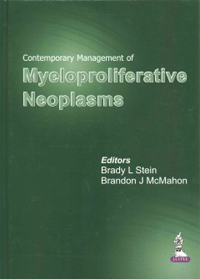 | | |
| --- | --- |
| '˜ŽÒ | : B.L.Stein & B.J.McMahon (eds.) |
| o"ÅŽÐ | : JAYPEE BROTHERS MEDICAL PUB |
| ISBN | : 978-93-5152-362-8 |
| ƒy[ƒW" | : 203pp. |
| o"Å"N | : 2015"N |
ÝŒÉ

'艿9,823‰~(–{'Ì8,930‰~ { Å)

**Description**
This book focuses on the diagnostic classification of myeloproliferative neoplasms (MPNs), current understanding of molecular pathogenesis of these diseases, management of clinical complications of thrombosis and bleeding, and treatment approaches including chemotherapy and transplantation. The main emphasis is on the three major subtypes of MPN: essential thrombocythemia (ET), polycythemia vera (PV), and myelofibrosis (MF). The authors also cover less common disorders of eosinophils and mast cells.

**Purpose**
The purpose is to combine practical aspects of clinical management with insights into disease pathogenesis. This is an important goal in this era of rapid discoveries in the field of MPNs. The book meets the stated goals.

**Audience**
According to the editors, the book is written for students, physicians in training, and attendings with an interest in MPNs. The editors and authors are recognized specialists in MPNs, although they are not among the top tier of investigators in this field in the United States.

**Features**
This is a fairly up-to-date overview of MPNs in terms of diagnostic criteria and pathogenesis. One chapter is devoted to thrombotic and bleeding complications in MPNs. The three main MPNs are covered in detailed chapters including their molecular pathogenesis and clinical management. The role of allogeneic stem cell transplant is well reviewed by a recognized leader in this field. Novel therapies under clinical investigation are discussed in detail. The less common disorders of eosinophils and mast cells are fully covered in separate chapters. Like any book about diseases that are rapidly evolving in terms of scientific knowledge, the most recent developments in this field are not fully covered. CALR mutations are mentioned, but recently published data describing the prognostic significance of this mutation compared to JAK2, MPL, or no mutations are not included here. The approval of ruxolitinib for PV is not discussed. Newer prognostic scoring systems that incorporate molecular markers are not mentioned. Recent data about the potential role of JAK2 inhibitors in treating active GVHD are also not included.

**Assessment**
This is a valuable review of the current state of scientific understanding and clinical management of BCR-ABL negative MPNs (with a few deficiencies as discussed above). It meets the stated goals to be a valuable tool for students, physicians in training, and attending physicians. This book is comparable in scope to two others in this field (Myeloproliferative Neoplasms: Biology and Therapy, Verstovsek and Tefferi (Humana Press, 2011) and Myeloproliferative Disorders: Symptoms, Risk Factors and Treatment Options, Camden (Nova Science, 2014)) but it is the most up to date and, therefore, it is a valuable addition to the field.

-----------------------------------------------------------
Weighted Numerical Score: 93 - 4 Stars!